One of a kind Quilts ~ each of these cozy cabin quilts designed by Linda is as lovely as they are cuddly. The fronts are pieced and stitched for beauty, the backs are fleece for warmth. Each shown is a One of a Kind and perfect for a child's bed or a throw to keep you warm while you watch a movie, have that first cup of coffee, work on your computer or snuggle with a loved one. They are approximately 45 x 58

. [Click on photo for larger view.]

All pictured quilts are sold

. However, you can contact Linda at lstelt@cavenet.com to discuss your very own, designed for you, One of a Kind quilt.
Here is my

New Series of "Out The Window" Quilts. These are custom made to reflect the memory of somewhere special to the recipient of the quilt. These are Art Quilts, they will not look like a photograph, but they will evoke the feeling of your "special" place. They are made in my classic "Cozy Quilt" fashion, a light weight quilt with a fleece backing that becomes both batting and backing.

Prices start at $200.00 for a basic 48" wide by 60" long. Larger sizes and extra embellishment will cost more.

Photo quilts ~ these too are backed in "Cozy Quilt" fashion.

Prices will be starting at $75.00 for 48 x 60, plus $7.50 for each custom block, be it embroidery or photo. If you need your photos scanned, tweaked etc, there may be an additional charge. The key here is to talk the project out before I start. Email me at lstelt@earthlink.net and we'll talk about options, what you have, what you want, style, size etc.
The Lilac Heart Quilt ~ full view and close up of center detail.
The Flower Garden Tile Quilt
Golden Crocus, Log Cabin Style
Blue Medallion with Butterflies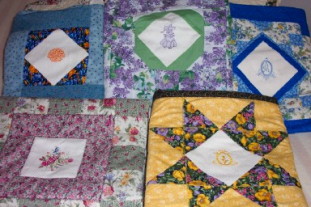 Seen here, 5 quilts....

ã

Brainstorms Extraordinaire LLC 2011

Designed by

BBBears Web Design ã 2011